Friday, March 26, 2010
Sponsored By: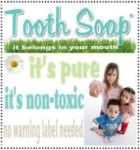 Check out our Friday Follow Sponsor & Giveaway!
No need to fear the dentist anymore. You can reduce the visits and make your dentist happy too. Brush with Tooth Soap®. Non-toxic, sustainable, organic and no need for a warning label. Created by a mom who has kids with no cavities. Get more information at: http://www.toothsoap.com/special-offers.
Toothsoap.com " I LOVE TOOTH SOAP®"
CASH Giveaway!
THREE one hundred dollar cash prizes up for grabs from Toothsoap.com as a thank you for your Friday Follow participation!
Contest Requirement: To be entered into the contest for three 100 dollar cash prizes please do the following:
•* Please place the Toothsoap.com button on your blog post today for Friday Follow and also on your blog sidebar.
•* During the week of March 26 - April 2, 2010 THREE winners will be chosen AT RANDOM to win a 100 dollar cash prize from TOOTHSOAP.COM
•* Winners are selected by random.org using the Friday Follow Link System
•* Winners selected MUST have the Toothsoap.com button on displayed prominently on both their Friday Follow post and blog sidebar to be eligible to win said prize.
•* Winners will be notified by email and by blog comment by team@toothsoap.com.
•* Winners have 24 hours from notification date to claim 100 dollar cash prize via email.
•* Cash prize is payable by Paypal.com or check from Vitality Products to winners (winners choice).
•* Contest ends Friday, April 2, 2010 at the stroke of midnight.
•* Open to US & Canada Residents
Here's how YOU can join the Friday Follow celebration:
•* Link up your blog name and URL using the MckLinky below. Only need to add on one blog to be seen on all the blog hops.
•* Grab the Friday Follow and Sponsor buttons and include both on your Friday Follow blog post.
•* Follow the Friday Follow hostesses listed in the first 3 slots.
•* Follow as many other blogs on the linky as you'd like
•* Take a moment to comment on the blogs telling them you're from Friday Follow
•* Follow back if you like, when you get a new follower through Friday Follow